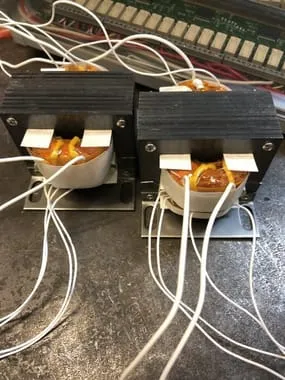 Small custom ferroresonant
constant voltage transformers
Constant Voltage Transformers
Constant voltage transformers (CVTs), also known as ferroresonant transformers, use a magnetic structure and a capacitor to limit currents, regulate output voltage, and perform other power functions. Built for reliability and maximum efficiency, CVTs feature a fixed output voltage to readily provide line and load regulation within 3% or better, depending on your custom design and application requirements.
General Transformer Corporation designs and manufactures high-quality industrial CVTs that have been designed to match your exact specifications. We can satisfy the demands of any application, such as providing quasi-square wave output or a low distortion sine wave. Let our experts design, manufacture, and deliver the custom constant voltage power transformer you need to complete your power application, such as:
CVT Design Considerations
Before requesting a custom transformer, it is essential to consider the exact needs of your application. Available ratings will vary depending on several factors:
Power requirements
Maximum voltages
Currents
Frequency
GTC has the capabilities to design and manufacture constant voltage transformers with ratings from 100 VA to 10 kVA for 50/60 Hz operations.
The Benefits & Advantages of Installing an Industrial CVT
Constant voltage transformers provide an extensive range of benefits. They protect sensitive loads from noise, transient, and surge disruptions while regulating currents to prevent overload. Other benefits of constant voltage transformers include, but are not limited to:
Rugged and reliable designs
Fixed output voltage
High isolation levels
Adjustable output voltage (controlled CVTs only)
Compact designs
Low maintenance requirements
Protection against severe transients, including lightning strikes
Constant Voltage Transformers for Any Industrial Application
CVTs are a versatile and popular power transformer choice across many industries and applications. They work to control voltage sags and power surges, and they are often used in:
Audio and video equipment
Data processing
High-sensitivity machinery
Motor controls
Semiconductors
Tooling machines
Custom CVTs for OEMs
Original equipment manufacturers require reliable constant voltage transformers they can trust. GTC can design a fully custom power solution for any OEM application, providing maximum power capacities in a compact package. Whether you require a new CVT or are looking to enhance your operations by replacing an existing one, GTC is ready to be a full-service partner to any OEM.
Choose GTC for Custom Constant Voltage Power Transformers
For over forty years, General Transformer Corporation has been an industry leader in designing and engineering power transformers that meet your specifications and exceed your expectations. We create custom solutions tailored to individual applications, working closely with your team from initial quote through final delivery.
Reliable Supply Chain for High-Performance Products
GTC maintains complete control over all our processes and procedures. We are an ISO 9001:2015 certified manufacturer, carrying out all our services at our facility in Wylie, Texas. Our materials and supplies come exclusively from domestic suppliers within our trusted supply chain network. We ensure American-made quality on all orders and guarantee highly accurate power transformers at competitive prices delivered on time.
Contact Us Today
Contact GTC
to learn more about our design capabilities, custom manufacturing services, and other power solutions.
Request a quote
to begin your custom order. One of our industrial power transformer experts will be in touch as soon as possible.