Custom toroidal transformers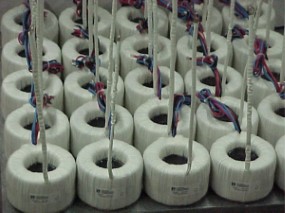 Custom toroidal transformers
Custom Toroidal Transformers
Toroidal transformers feature a ring or donut-shaped magnetic core with one or more copper windings wound through and around the core with specialized toroid winding machinery. With its unique shape, toroidal transformers offer increased efficiency and a variety of other advantages for industrial applications.
General Transformer designs and manufactures a wide range of toroidal transformers and inductors to meet your needs.
Advantages of Toroids for Industrial Applications
Toroids are ideal for certain applications because they are lighter, smaller, and more efficient. Because of the shape of the core, toroid transformers will have less stray magnetic flux escaping or less leakage flux. This means less electro-magnetic interference (EMI) to adjacent components.
 Additional benefits of toroid transformers include:
Smaller size and lighter weight than conventional laminated designs.
Low form factor, flat design
Single bolt mounting
Lower losses and higher efficiency
Reduced audible noise
Inherently low magnetic flux leakage
Shielded designs are readily produced to meet low leakage current or EMI requirements
Applications of Toroidal Power Transformers
Toroids are the ideal solution for compact applications that need space-saving transformers. They work well in electronic circuit applications like computers and inverters, as well as video and audio applications. Because of their low leakage and ease of shielding, toroidal transformers are frequently used in medical devices and equipment.
Toroidal transformers are also found in:
AC filter inductors (reactors)
Autotransformers
Isolation transformers
Considerations for Custom Toroidal Transformer Design
Our toroids are custom designed for specific applications. Their available ratings depend upon your power requirements, maximum voltages, currents, and frequency. We can produce toroidal isolation transformers with ratings from 20 va to 4 kva for 50/60 Hz, operation, autotransformers to 8 kva, and transformers for 400 Hz operation to 20 kva.
Your Toroidal Transformer Manufacturer 
None of the transformers at General Transformer are off-the-shelf products. We customize our products based on your exact design specifications and application. Send us your design requirements today or contact us to learn more.