Request a Quote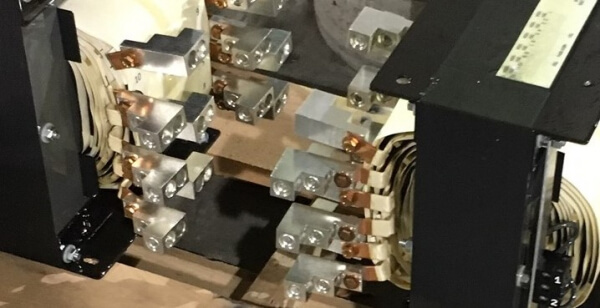 Special power terminations on
transformer connections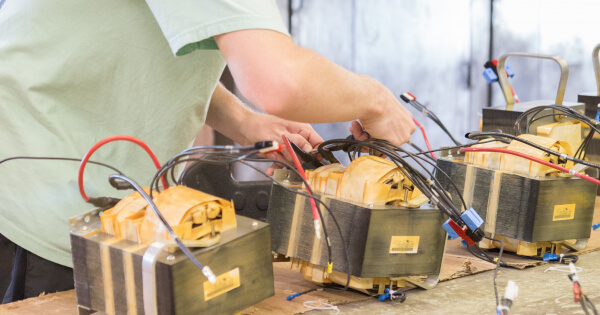 Final custom transformer inspections
Custom Magnetics Design
For applications requiring one or just a few transformers, selecting a standard off-the-shelf design may be right for you. However, for either specialized applications or quantities more than just a few, it pays to consider a custom design from General. We'll design and manufacture what you need tailored to your exact specifications.
Factors to Consider for Custom Magnetics
There are several factors you should consider in deciding whether your application can use standard, "off-the-shelf" magnetics, or whether a custom design will be your best choice.
Size or Rating
Off-the-shelf devices are sized to meet broad market requirements, which may not match yours. Select too high a rating, and you pay the penalties of excess size, weight, and cost. Too low, and you may suffer unacceptable performance, high operating temperatures, and reduced life.
In designing custom magnetics for your requirements, General Transformer Corporation will consider: 
Actual load requirements
Input voltage range
Duty cycle
Ambient temperature range
Ventilation (or lack thereof).
Form Factor and Mounting
With off-the-shelf devices, what you see is what you can get. They are what they are in terms of size and mounting provisions. Custom magnetics from General will be manufactured with the mounting configuration and form factor which best suits your requirements.
Perhaps your design can accommodate a long, skinny device, but not a short, squat design, or vice versa. General can make what you need. Maybe you have room for two relatively small parts, rather than one larger one. Our transformers can be manufactured with the exact mounting configuration you need to meet your needs.
Leads, Terminals, or Connectors
Custom leads, terminals, and connectors can be tailored to your exact design specifications. General can supply leads of any length and rating you specify, terminals ("fast-on," screw, or other), or connectors of your choice.
Cost
Though it may seem like custom magnetics would be more expensive than off-the-shelf, that's not necessarily true. A requirement for just a few transformers of a standard rating may be best served with an off-the-shelf product.
However, custom magnetics can result in lower overall costs at even modest production volumes. When factors such as optimum sizing, form factor, mounting, and terminations are taken into account, custom magnetics will be the most cost-effective option.
Confidence
When buying off-the-shelf, you have to trust the manufacturer's ratings. Are their design standards, temperature rise limits, and life expectancy what you want them to be? Buy custom magnetics from General Transformer, and you're a key part of the process.
We'll want to know how the part is to be used, what the environmental conditions will be, and what your actual requirements and expectations are. We'll provide you with a prototype, complete with thermocouples, for your testing and approval under your real-world conditions. It's only after your approval that the design is considered complete and ready for production. 
Contact General Transformer for Custom Magnetics
For more than forty years, General Transformer Corporation has provided superior custom magnetics, designed for the real-world needs of our customers. We have produced a myriad of custom designs for OEM customers in a wide range of markets.
Contact us today with your requirements, and let us create an optimum solution for you