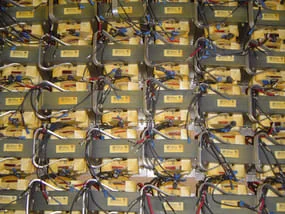 Large custom ferroresonant
constant voltage transformers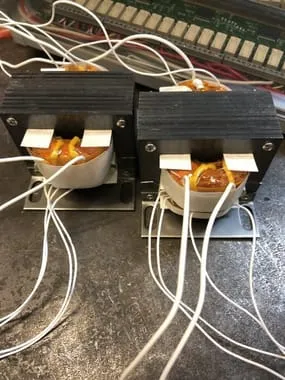 Small custom ferroresonant
constant voltage transformers
Ferroresonant Transformers
Using a magnetic structure and a capacitor, ferroresonant transformers provide regulated output voltage, current limiting, and other benefits. They are designed with a core, a primary winding, two secondary windings, and a magnetic shunt, making conventional ferroresonant transformers independent of electronic control circuits.
General Transformer manufactures ferroresonant transformers designed to meet your specific application needs. Whether you need a quasi-square wave output or a low distortion sine wave, we offer full custom designs.
Industrial Application Advantages of Ferroresonant Transformers
Ferroresonant transformers, also known as constant voltage transformers (CVTs), provide a range of benefits, including—but not limited to—regulation. Ferros offer current limiting, meaning if an extreme overload or even a short circuit is applied, the secondary current is limited to a safe level, and the primary current is lower than at normal full load.
Ferros protect sensitive loads from disturbances like noise, transients, and surges. Because they are designed with a low-pass filter, ferroresonant transformers can suppress transient and surge voltages. They can also "ride through" brief power outages of one-half cycle without losing output voltage.
Other benefits of ferroresonant transformers include: 
Fixed output voltage
Rugged and reliable
Adjustable output voltage (controlled ferros only)
High levels of isolation
Quasi-square wave output waveform reduces filtering requirement for d-c applications
Low distortion sine wave output available for a-c load applications 
Custom Ferroresonant Transformers for OEMs
Improve performance and efficiency with a custom ferroresonant transformer. We work with a variety of industry leaders, providing OEMs with a continual supply of high-quality custom ferros. Our vast range of proven ferroresonant designs affords us the ability to design maximum power into a smaller package. If your circuit incorporates an existing ferroresonant transformer, we invite you to improve its performance, efficiency, and cost by a redesign by General Transformer Corp.  OEMs that benefit from custom ferroresonant transformers include the following:
Motor control manufacturers
Industrial equipment manufacturers
Semiconductor manufacturers
Tooling machine manufacturers
Reliable Supply Chain for High-Performance Products
As an ISO 9001 certified ferroresonant transformer manufacturer, we only work with domestic suppliers through a reliable supply chain. As one of the few US-based ferroresonant transformer manufacturers, we manufacture custom ferroresonant transformers from our Wylie, Texas manufacturing plant.
With complete control over processes and procedures, we are a trusted domestic manufacturer of high-performance custom transformers.
Ferroresonant Transformer Custom Design Applications
Ferroresonant transformers are found in a wide variety of industries, helping to control voltage sags and power surges. For applications ranging from telecommunications to scientific equipment, ferroresonant transformers offer reliable regulation even under extreme operating conditions.
Applications of ferroresonant transformers include:
Custom Ferroresonant Transformer Design Advantages
We design and manufacture rugged, reliable ferroresonant transformers that can protect your loads from severe transients, even nearby lightning strikes. Our ferroresonant transformers are made from full custom designs, no matter how complex your needs. They can be designed to provide:
Quasi-square wave output: This waveform is easily rectified and filtered for a smooth DC output
Low distortion sine wave output: This design is ideal for AC load applications
Ferroresonant transformers are single-phase devices, but they may be used in combinations of two or three for three-phase applications.
Custom Ferroresonant Transformers Built for Performance and Efficiency
Our ferroresonant transformers are designed for quality performance and efficiency. Based on their design, our conventional ferros have a fixed output voltage and can readily provide line and load regulation to within 3%. Our controlled ferros can be designed to have an adjustable output voltage, and, dependent upon the design of the control circuitry, line and load regulation can be better than 1%.
Custom Transformer Factors to Consider
General Transformer's products are custom designed for specific applications. Available ratings depend upon several factors including:
Power requirements
Maximum voltages
Currents
Frequency
We can produce ferroresonant transformers with ratings from 100 VA to 10 kVA for 50/60 Hz operation. 
Contact General Transformer Today for Ferroresonant Transformers
For over 40 years, we have been designing and engineering transformers to meet and exceed the expectations of our customers. Proudly made in the USA, our ferroresonant transformers are rugged, reliable, and efficient, providing you with the custom design your application needs.
To learn more about our ferroresonant transformers give us a call at 972-442-1285 or send us your custom project requirements today.
Back to Top