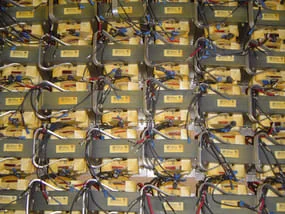 Large custom ferroresonant
constant voltage transformers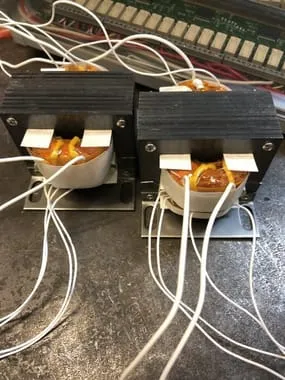 Small custom ferroresonant
constant voltage transformers
Ferroresonant Transformers
General Transformer designs ferroresonant transformers to meet your specific application needs. As an ISO 9001 certified manufacturer, we only work with domestic suppliers through a reliable supply chain. We maintain complete control over processes and procedures, engineering and manufacturing all custom ferroresonant transformers at our facility in Wylie, Texas. Call 972-442-1285 today to learn more about how GTC can support your project!
Small custom ferroresonant
constant voltage transformers
Ferroresonant transformers, also known as constant voltage transformers (CVTs) or ferros, provide a range of benefits to any application. Ferros offer current limiting, protect sensitive loads from disturbances, and are designed with a low-pass filter to suppress transient and surge voltages. They can also "ride through" brief power outages of one-half cycle without losing output voltage. Other benefits of ferroresonant transformers include:
Fixed output voltage or adjustable output voltage, depending on design
Rugged and reliable operations
High levels of isolation
Quasi-square wave output waveform reduces filtering requirements for DC applications
Low distortion sine wave output available for AC load applications
Ratings from 100 VA to 10kVA for 50/60 Hz operation
Fully customizable designs to fit your requirements
Ability to be used in combinations of two or three for three-phase applications
And many others!
We Manufacture Ferroresonant Transformers to Match Your Specifications
GTC's vast range of proven ferroresonant designs allows us to provide maximum power in a smaller package. Our transformers are custom-built for specific applications, from simple constructions to complex configurations. Available ratings depend upon several factors:
Power requirements
Maximum voltages
Currents
Frequency
Based on your requirements, our conventional ferros have a fixed output voltage and can readily provide line and load regulation within 3%. Our controlled ferros can feature an adjustable output voltage and, depending on the control circuitry, line and load regulation better than 1%.
Custom Ferroresonant Transformers for OEMs
General Transformer works with several industry-leading OEMs, delivering a continual supply of high-quality custom ferros. If your circuit incorporates an existing ferroresonant transformer, we invite you to improve its performance, efficiency, and cost with one of our custom redesigns. Our engineering team is prepared to meet the demands of any OEM across markets, including but not limited to:
Motor control manufacturers
Industrial equipment manufacturers
Semiconductor manufacturers
Tooling machine manufacturers
Applications for Ferroresonant Transformers
Ferroresonant transformers are found in a wide variety of industries for applications ranging from telecommunications to scientific equipment. They offer consistent regulation even under extreme operating conditions. Applications of ferroresonant transformers include:
Line conditioners to protect computers and other sensitive electronic devices
And more!
Contact General Transformer Today for Ferroresonant Transformers
For over 40 years, General Transformer has designed and engineered custom power transformers that meet and exceed your expectations. Proudly made in the USA, our custom ferroresonant transformers are rugged, reliable, and efficient. Contact us or request a quote today to begin building your custom USA-made power solution. A highly knowledgeable and skilled representative will be in touch as soon as possible to discuss your needs.