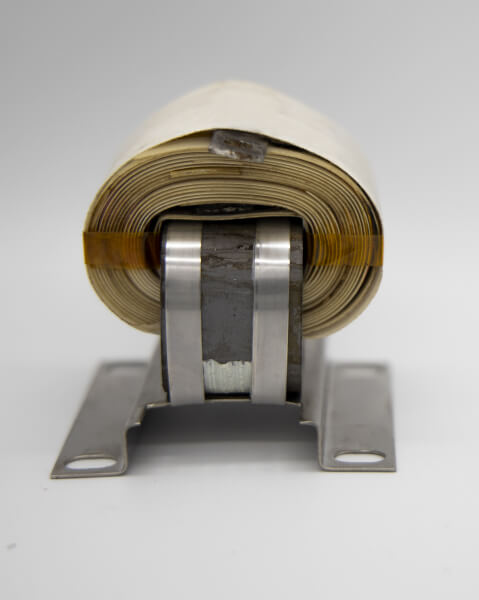 C-Core Inductor
Custom Power Inductor
Inductors & Chokes
Inductors are electromagnetic devices which store energy in a magnetic field. Current flow through a coil or winding produces a magnetic field in a core of magnetic material such as steel. Inductors are frequently used for electrical and electronic applications.
When you need a custom inductor for applications that can withstand high voltage and high current requirements, General Transformer Corporation is your best resource for custom inductor design and development. Our team of engineering experts have the skill set and experience to turn your inductor design dream into a reality.
Laminated Core Inductors & Chokes
We design and manufacture inductors with toroid or laminated steel cores, multiple windings, taps, and other features as required for your specific application, per your exact specifications. Available core configurations include:
Laminated. The most common and generally most cost-effective construction, laminated core inductors are useful for a broad range of power and current levels.
Toroidal. Toroidal core inductors are compact, quiet, and efficient, especially at low to moderate power and current ratings.
Wound Cut Core (C-core or E-core). Wound cut cores provide many of the advantages of toroids, including low losses, high efficiency, and reduced acoustic noise for higher power and current requirements.
Whatever your application requirements, General Transformer Corporation is your best resource for custom inductor design and production. Our team of engineering and manufacturing experts have the skills and experience to turn your inductor needs into reality.
Why Choose GTC as Your Inductor Manufacturing Partner? 
Other benefits from working with us on your next custom inductor project include:
Automation. We offer full engineering services with quick prototype delivery. We also offer bar code and part serialization services with data storage for as well as automated production testing with LABView Software.
Quality. As an ISO 9001 certified manufacturer, we adhere to a strict quality standards. These standards include guidelines for process, personnel, equipment maintenance, and instrumentation controls.
Quick Turnaround Times. Time is money. We carry a large stock of materials that enables us to deliver prototypes or finished products on time.

We also have the manufacturing capabilities to produce both small and large production runs. Multiple vendor relationships allow for quick deliveries for specialty parts.

Location. All manufacturing done in the USA. Our manufacturing facility is centrally located in the US for quick transit times.
Customer Relationships. For over 40 years we have built long-lasting relationships with our valued customers. We are ready to work with you and exceed all expectations.
Through our electromagnetic experience and industry knowledge, we have the solutions that your next custom inductor design requires. Contact us to discuss your custom inductor needs or request a quote today.
Applications of Custom Inductors & Chokes
In dc circuits, inductors are commonly used for filtering, allowing smooth dc current flow while blocking AC. In such applications, they are sometimes called chokes. In AC circuits, custom inductors are used for filtering, noise reduction, power factor correction, and many other purposes, and are sometimes referred to as reactors.
Custom inductors are suitable for both high voltage and high current applications. They can be found in: 
Sensors
Tuning circuits
Energy storage
Motor drives
Rectifiers
Power supplies
Battery chargers
Contact General Transformer for Custom Inductors Today
General designs and manufactures inductors using toroid and laminated steel cores, with multiple windings, taps, and other features as required for your specific application. We will work closely with you to ensure all of your design needs are met.
For more information about our inductors, or to discuss a custom inductor for your application, contact us with your design requirements today.