Small power transformers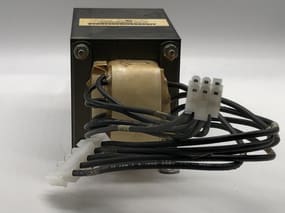 Custom transformer with terminal housings
Custom Power Transformers
Transformers are electromagnetic devices which transform energy from an electrical circuit into energy in a magnetic circuit, and then back to electrical energy. Using this process, transformers can efficiently transfer power between two or more electrically isolated circuits or convert voltages and currents to desired levels. 
At General Transformer, there are no off-the-shelf transformers. All of our products are custom designed and manufactured to meet your individual design needs. Whether you need a specific temperature rating, size, or mounting configuration, we work closely with you to design and manufacture transformers with the proper magnetic topology for your application. 
Types of Custom Power Transformers
General Transformer designs and manufactures both single and three-phase transformers with toroid or laminated steel cores, with multiple windings, taps, and other features as required for your specific application. In addition, General is one of the leading producers of constant voltage ferroresonant transformers.
Ferroresonant Transformers
These custom ferroresonant transformers provide reliable regulation with the rugged design your application needs. They protect sensitive loads from noise, surges, and other disturbances.
Toroidal Transformers
These custom transformers are designed for compact applications, provide high efficiency in a smaller size and lighter weight.
Three-Phase Transformers
For higher power ratings, we design and manufacture custom three-phase transformers that are a cost-effective, high-quality option for industrial applications.
Custom Inductors
Our inductors are custom designed and manufactured to meet your needs, whether that's multiple windings, taps, or a gapped steel core.
Line Conditioners
Our unique series of line conditioners, the EMAX Defender series, offers the durability and efficiency needed for sensitive electronic equipment.
Low Frequency Transformers
General Transformer works with many industries for varying applications in need of a custom low frequency transformer. We provide low frequency transformer designs with frequency capacities of:
Your frequency needs will vary depending on your specific application and geographic location. For instance, North, Central and South America typically use 60 Hz while the rest of the world is more likely to use 50 Hz. Most 50 Hz low frequency transformers can be used in a 60 Hz application and usually have a 50/60 Hz rating. A 60 Hz rated transformer should only be used in a 60 Hz application.
The 400 Hz low frequency transformer is used in high-powered applications to minimize size. Smaller and more lightweight than a 50 Hz or 60 Hz transformer, a 400 Hz transformer is especially suited for military, aerospace and avionic applications as it allows for increased cargo space and decreased fuel consumption.
Your Best Source for Custom Transformers
As an industry-leading custom transformer manufacturer, General Transformer Corporation has 200+ combined years of transformer manufacturing experience. Our expertise reflects our passion for transformer design and production. Whether you have a small or large project, we are a transformer manufacturer you can trust for all your custom transformer needs.
Other benefits from working with us on your next custom transformer project include:
Automation. We offer full engineering services with quick prototype delivery. We also offer bar code and part serialization services with data storage for as well as automated production testing with LABView Software.
Quality. As an ISO 9001 certified manufacturer, we adhere to strict quality standards. These standards include guidelines for process, personnel, equipment maintenance, and instrumentation controls.
Quick Turnaround Times. Time is money. We carry a large stock of materials that enables us to deliver prototypes or finished products on time.

We also have the manufacturing capabilities to produce both small and large production runs. Multiple vendor relationships allow for quick deliveries for specialty parts.

Location. All manufacturing done in the USA. Our manufacturing facility is centrally located in the US for quick transit times.
Customer Relationships. For over 40 years we have built long-lasting relationships with our valued customers. We are ready to work with you and exceed all expectations.
We are dedicated to providing you with the engineering support, productivity advances, quality, and delivery performance you deserve. Contact us to discuss your custom transformer needs or request a quote today.
Industrial Applications for Custom Transformers
Our custom transformers provide the efficiency, reliability, and quality that many industrial applications require. Whether you need a space-saving transformer for a compact application or a solution for a power generation application, we offer the custom transformer to meet your design needs.
Applications of our custom transformers include:
Circuit Control
Portable Power distribution
AC filter inductors (reactors)
DC smoothing inductors (chokes)
Custom Transformer Factors to Consider
Available ratings depend upon several factors including:
Power requirements
Maximum voltages
Currents
Frequency.
We can produce laminated steel isolation transformers with ratings from 100 va to 60 kva for 50/60 Hz, operation, autotransformers to 120 kva, and transformers for 400 Hz operation to 20 kva or more.
Find Out More About Our Custom Power Transformers Today
All of our custom ferroresonant transformers, toroidal transformers and three phase transformers are custom designed and manufactured to meet your individual design and application requirements.
Back to Top
---