Three Phase Transformer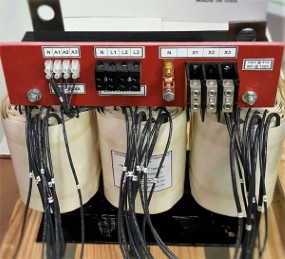 Custom Three Phase Transformer
Custom Three Phase Transformers
Ideal for power distribution, three phase power transformers are best for electrical systems that require efficient  distribution capacity and high-power transmission capabilities.
At higher power ratings, three-phase transformers are less expensive, lighter, and more flexible than other power transformer configurations. Other benefits to choosing a custom three-phase power transformer include:
Compact designs take up less space
Ability to convert AC to DC power simply and economically
Lighter weight construction
Ability to accommodate three-phase and small single-phase loads
Multiple single-phase toroid or ferroresonant devices can be integrated into three-phase power systems
General Transformer Corp. is a leading USA-owned and operated manufacturer of custom three-phase transformers. Our engineering team will work closely with you to determine the best three-phase power transformer design for your unique application. No matter your needs, we are dedicated to building custom power transformers that match your exact specifications.
Best-in-Class Three Phase Transformer Manufacturer
For over 45 years, General Transformer has created innovative power transformers for a wide range of OEMs across all industries. We can meet custom requirements for three-phase power applications with laminated steel transformers, inductors produced in true three-phase (three coil) designs, and more. In addition to our commitment to providing the best final products and customer service, we also offer many other advantages as your full-service partner:
Optimum design for accurate transformer development
All design, engineering, and manufacturing processes are carried out in the USA
Ability to handle large production runs with quick turnarounds and on-time deliveries
Bar code and part serialization with data storage for custom three-phase transformer projects
We work hard to meet every specification while exceeding any expectation. Not only can we build your best three-phase power transformer, but we can also show you how to use three single-phase units connected in either wye or delta configurations or two single-phase units in open delta or Scott-T circuits. GTC can engineer a custom power solution tailor-made for your application regardless of your needs or system requirements.
Three Phase Power Transformers for Any Application
Three-phase power transformers are used across an extensive range of industries due to their flexible and versatile operations. They can be found in high-power industrial loads such as rectifiers, motor drives, and other equipment in many sectors:
Mining
Printing
Textile working
Elevators
Industrial automation
Petrochemical processing
And many others!