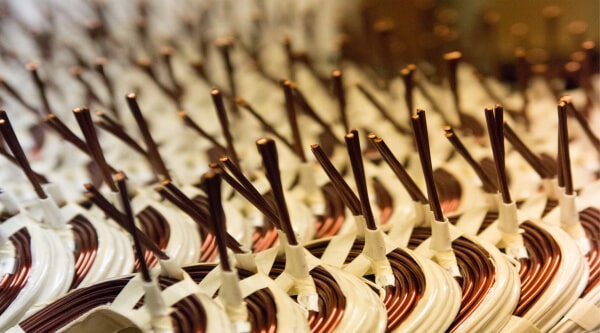 Transformer Coils 
Transformer Coils
Copper wound coils are a critical component in every transformer, inductor, or choke. Transformer coil windings are used to transfer energy from a source to the load and help filter circuits.  They can also provide critical isolation for equipment from the source.
While not all coils are transformers, all transformers contain one or more coils. At General Transformer Corporation, we have the expertise and industry knowledge to design and manufacture transformers and coils to meet even the strictest specifications.
GTC Coil Capabilities
We design transformer coils with a vast range of capabilities. Some of these include, but are not limited to:
Cylindrical wound square, round or rectangular copper wire for low voltage with multiple windings, layers and taps.
Copper foil windings for low voltage high current applications.
Raising or lowering the voltage levels in AC or DC circuits.
Isolating critical loads from source.
And more.
We can design and manufacture transformer coils that will exceed your expectations, no matter your specifications or requirements.
Custom-Designed Coils for Unique Applications
Transformers and transformer coils are used widely throughout a variety of applications across many industries, such as:
Telecommunications
Aerospace & Defense
Military
Medical
Audio
Our engineering team offers Optimum Design assistance on all custom coils, transformers, and other products requiring non-standard or unique specifications. Visit our photo gallery for examples of past custom manufacturing projects.
Coil Design & Manufacturing You Can Trust
GTC has the dependable and industry-leading capabilities you require. We have refined and perfected our systems and processes to ensure your satisfaction with our products and services. When you choose General Transformer for your coils, you're choosing:
Automation. Our full engineering services provide quick prototype delivery, bar code and part serialization, and automated production testing with LABView Software.
Quality. GTC is an ISO 9001 certified manufacturer. Our processes, personnel, equipment maintenance, and instrumentation controls follow strict quality standards.
Quick Turnaround Times. We are committed to saving you time and money by keeping a large stock of materials on hand to quickly produce small or large production runs.
Location. We conduct all our transformer coil winding in the USA.
Customer Relationships. We have built long-lasting relationships by working with our customers to satisfy every requirement.
Contact GTC for Custom Transformer Coil Winding Today
Contact us or request a quote today for more information about our transformer coil winding capabilities, design services, or manufacturing expertise.