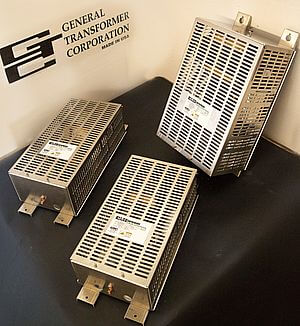 ETL listed. Conforms to UL Std. 1012 and certified to CSA Std. C22.2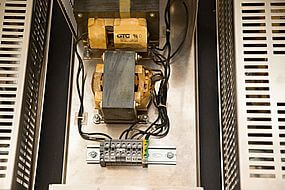 Line conditioners for sensitive components
Power Line Conditioners
Line conditioners provide filtered and regulated (conditioned) power to electrical and electronic loads which are sensitive to power quality. Such sensitive loads may be damaged or destroyed by transients, or operate with less than optimal performance due to poor voltage regulation.
Existing electronic line conditioners can provide tighter regulation than your load requires, but at the cost of vulnerability to harmful transient voltages. Delicate electronic devices are being used in an attempt to protect delicate electronic devices. Ferroresonant line conditioners have long offered outstanding transient protection, but at the cost of relatively poor efficiency.
For applications that require efficiency and innovation, General Transformer Corporation offers you the
EMAX DEFENDER series
of electronic line conditioners. Our EMAX DEFENDER conditioners deliver the ruggedness found in ferroresonant line conditioners but are also designed with a dual magnetic topology. This innovative design enables our EMAX DEFENDER line conditioners to operate at a high efficiency-saving you energy when it matters most. Additionally, the EMAX DEFENDER line conditioners are also offered various sizes to meet your power requirements.
Other benefits from working with us on your next line conditioner project include:
Automation. We offer full engineering services with quick prototype delivery. We also offer bar code and part serialization services with data storage for as well as automated production testing with LABView Software.
Quality. As an ISO 9001 certified manufacturer, we adhere to a strict quality standards. These standards include guidelines for process, personnel, equipment maintenance, and instrumentation controls.
Quick Turnaround Times. Time is money. We carry a large stock of materials that enables us to deliver prototypes or finished products on time.

We also have the manufacturing capabilities to produce both small and large production runs. Multiple vendor relationships allow for quick deliveries for specialty parts.

Location. All manufacturing done in the USA. Our manufacturing facility is centrally located in the US for quick transit times.
Customer Relationships. For over 40 years we have built long-lasting relationships with our valued customers. We are ready to work with you and exceed all expectations.
GTC's EMAX DEFENDER line of conditioners offer you the best of both worlds. We have designed them to meet your power requirements all while providing cost-saving energy efficiency. Contact us to discuss your electric line conditioner needs or request a quote today.
EMAX Defender Power Conditioners
We are proud to introduce EMAX Defender 600, 1200 and 2400 va power conditioners. Each line conditioner is designed around an innovative dual magnetic topology that facilitates outstanding transient rejection coupled with optimum regulation. This means that the EMAX line conditioner provide the power quality you need at high efficiency, generally over 90% under real-world operating conditions.
Why is Efficiency Important?
Higher efficiency in your line conditioner means lower energy costs and better environmental benefits. EMAX Defender power conditioners lose less input power, meaning lower costs over the lifetime of the equipment.
This also means less heat has to be removed from user equipment and enclosures, leading to a decrease in ventilation requirements.
Higher Ambient Temperature Operation
EMAX Defender line conditioners are capable of continuous, full load operation at ambient temperatures from - 40°C (-40°F) through +60°C (+140°F). Because of their high efficiency and minimum heat loss, operating temperatures rise and component stresses are lower, leading to higher ambient temperatures and a longer life.
The EMAX Defender power conditioner series sets the standard by which all other line conditioners will be measured. Our selection of line conditioners includes:
| | | | |
| --- | --- | --- | --- |
| VA Rating | Part Number | Data Sheet | Installation Manual |
| 600 VA | 45-60-600-1 | | |
| 1200 VA | 45-60-1200-1 | | |
| 2400 VA | 45-60-2400-1 | | |
Contact General Transformer for Efficient, Rugged Power Line Conditioners
Our line conditioners provide an unmatched combination of high efficiency, enhanced reliability, and longer lifespan. Contact us today for custom ratings and options.